RealClear Radio Hour to Air this Saturday on Bloomberg Radio San Francisco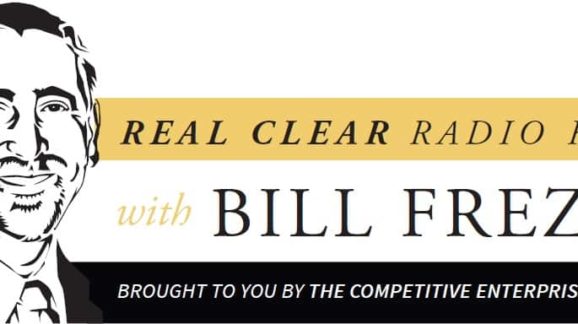 WASHINGTON, January 12, 2015 – The Competitive Enterprise Institute is pleased to announce RealClear Radio Hour with Bill Frezza will air on San Francisco's Bloomberg Radio stations KNEW 960 AM and KOSF 103.7 FM-HD2 starting Saturday, January 31, at 10:00 a.m. PT and 4:00 p.m. PT.
Now in its second year, RealClear Radio Hour presents fresh ideas and in-depth discussion of diverse issues ranging from education and health care to science and technology. As an entrepreneur, investor, and 35-year veteran of the technology industry, host Bill Frezza offers an independent perspective, while asking questions and telling stories that you won't hear in the mainstream media.
Since launching in January 2014, Frezza has conducted interviews with individuals in Hong Kong, Dubai, Lebanon, Guatemala, and across Europe and the United States. The show has featured many prominent guests including Grover Norquist, Ralph Nader, Peter Thiel, Bob Metcalfe, Esther Dyson, Walter Williams, Daniel Boulud, David Brin, Matt Ridley, Stephen Moore, and Robert Reich.
Tune in this weekend to hear about the "weaponization" of the Russian media from guests Peter Pomerantsev, British TV producer and author of Nothing is True and Everything is Possible: The Surreal Heart of the New Russia and Garry Kasparov, global human rights activist, former world chess champion, and chairman of the United Civil Front, part of The Other Russia coalition opposing Vladimir Putin's increasingly authoritarian rule.
The RealClear Radio Hour is brought to you by the Competitive Enterprise Institute, a free-market think tank in Washington, D.C., in conjunction with the leading political news site RealClearPolitics.com. In addition to Bloomberg San Francisco, the show airs simultaneously on Bloomberg Radio Boston WXKS 1200 AM and WJMN 94.5 FM-HD2 on Saturdays at 1:00 p.m. ET and 6:00 p.m. ET, and rebroadcasts in cities across the country.
Catch up on the shows you missed and sign up to receive weekly emails at RealClearRadio.org. Other ways to listen include: iTunes, SoundCloud, and YouTube. For questions regarding the show, contact producer Amanda France at [email protected].
###