Free to Prosper
A Pro-Growth Agenda for the 114th Congress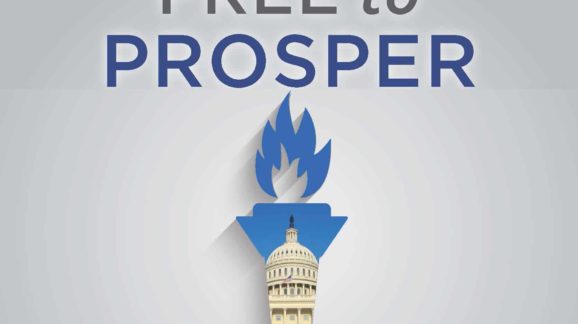 With the start of the 114th Congress comes a fresh opportunity to address the challenges created by a broken government. To kick off this new congressional session, the Competitive Enterprise Institute (CEI) recommends numerous reform proposals to strengthen the U.S. economy, increase transparency, and foster fair and open competition instead of favoring special interests.
CEI's top policy proposals center on substantive regulatory reforms needed to improve America's economic health. In 2014 alone, 3,541 new regulations hit the books, and the burden is constantly growing. If federal regulations were a country, their cost would amount to the world's 10th largest economy.
In addition to reining in burdensome regulations, CEI recommends that Congress continue to conduct fundamental oversight to protect Americans from executive overreach. Over the last six years, federal agencies have sought to usurp power from the legislative branch. Congress has a responsibility to demand honesty and accountability from our leaders and defend the rule of law.
Free to Prosper – A Pro-Growth Agenda for the 114th Congress
– Foreword
– Chapter 1: Reforming Regulations and Agency Oversight
– Congressional Oversight and Reform
– Regulatory Budget
– Regulatory Reduction Commission
– Chapter 2: Banking and Finance
– New Approach to Too Big to Fail
– Banking Regulatory Reform
– Access to Capital for Small and Mid-Sized Firms (JOBS Act II)
– GSE Reform
– Operation Choke Point
– Chapter 3: Affordable Energy
– Climate Change
– Clean Air NAAQS
– Renewable Fuel Standard
– Chapter 4: Protecting the Environment
– Federal Lands Policies
– Chemical Risk Regulation
– Chapter 5: Labor and Employment
– National Labor Relations Board and National Labor Relations Act Reform
– Labor Mobility
– Income Inequality
– Public Pension Reform
– Private Pension Reform
– Chapter 6: Food, Drugs and Consumer Products
– Genetically Engineered Foods
– Consumer Food Choice
– Drugs and Device Approval
– Consumer Products
– Chapter 7: Technology and Telecommunications
– Internet Freedom
– Privacy
– Cybersecurity
– Copyright
– Chapter 8: Transportation
– Surface Transportation Reauthorization
– Federal Aviation Administration Reauthorization