Massachusetts Teachers Union Dues Do Not 'Stay Local'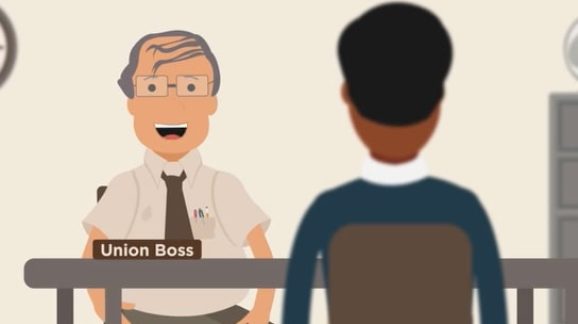 Labor unions like to promote the narrative that dues payments stay local. If you peruse union websites, a consistent message appears that reads something like this: "Most of your dues stay with your local union in order to fund activities that give workers more power at the bargaining table, in the statehouse and in the community." Unions use the "dues stay local" slogan as a selling point during organizing campaigns and to recruit new members.
Advertising like this makes it seem like very little of local union dues payments are kicked up to the national union to pay for union bosses' salaries, lobbying, political expenses, and office space.
However, a new report by the Pioneer Institute, a research organization located in Massachusetts, finds the opposite: "less than 16 percent of dues paid by members of nearly two-dozen union locals affiliated with the Massachusetts Teachers Association and National Education Association go to local chapters." The rest of local union members' dues payments (84.4 percent) are funneled to the Massachusetts Teachers Association (MTA) and National Education Association (NEA).
In one instance, only 8 percent of dues payments made by local members stayed with the local union.
Despite union rhetoric to the contrary, this finding is unsurprising. When union dues are deducted from a worker's paycheck it is in a lump sum payment. This is done to disguise how much the national and state union dues costs. According to the Pioneer Institute's survey, union members pay between $741 and $911 annually. Out of that amount, local members pay about $683 to the NEA and MTA.
So what are these dues payments funding? Pioneer analysis concludes that "Most dues revenue funds state and national salaries, administrative costs, efforts to extend influence, and government relations."
I guess someone has to pay for the NEA's political spending and union officials' salaries. In 2018, the NEA spent slightly over $18 million on political contributions and over $2 million in lobbying expenses. The top three highest ranking NEA officials all earn over $400,000.
All labor unions should clearly communicate to members how union dues are spent. Currently, there is no central location for union members to find out where their money is going.
In light of the recent Supreme Court decision in Janus v. AFSCME, which determined no public-sector union can force non-members to pay dues as a condition of employment, it is crucial that public workers have all the facts. Previously, in Massachusetts, a teacher would have had no choice but to make payments to the MTA and NEA. Now, a worker should be able to easily examine how their dues payments are spent and make an informed choice as to whether remaining a union member is beneficial to them.