Government regulations are based on enacted laws, and those laws in turn rest on the limited powers granted to government by the Constitution. Whether these constitutional limits succeed in actually reining in government is one of the basic issues facing our country. This is where CEI's legal expertise comes in.
Since 1986, CEI has engaged in strategic litigation on regulatory and constitutional issues, in areas ranging from free speech to environmental mandates and health care policy to financial regulation. This includes court challenges to both Obamacare and the Dodd-Frank Act. CEI's legal team works to defend the Constitution, protect the rule of law, and bring transparency and accountability to the regulatory state.
Featured Posts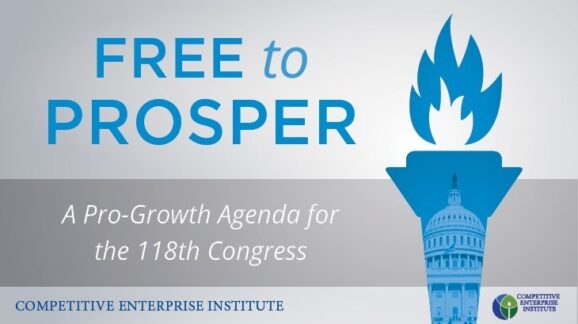 News Release
Today the Competitive Enterprise Institute (CEI) offered a set of important policy reforms for the 118th Congress to consider when it convenes in…
Blog
Can unelected federal bureaucrats force people to hire police to ensure that the law is complied with—even if Congress never said anything about hiring cops…
Blog
Many politicians, such as Sen. Elizabeth Warren (D-MA), advocate taxes on wealth. These taxes are easy to abuse, which is why the Founders placed…
Studies
Foreword Viewers who have seen the classic TV detective show Dragnet will recall the lines that introduced each episode: "The story you are about to…
Executive Summary Every year, federal, state, and local government agents take—and permanently keep—billions of dollars of Americans' property through civil forfeiture. The practice of civil…
What You Need to Know about Seizure and Forfeiture…
Blog
Moore v. United States—a case in which CEI represents the Moore family—is likely to be the most important tax case of the 21st century. Yesterday's…
A recent episode of Archer featured a dialogue between two FBI agents, both riding on jet skis, chasing a wrongdoer's boat. Agent One: Whoohoo!…
Some state governments have been acting as if the Fifth Amendment's requirement of just compensation doesn't apply in the course of collection of government debts.
News
The Competitive Enterprise Institute (CEI) sought a court order to preserve relevant documents and other materials from the White House's National Climate Task…
WASHINGTON—The Competitive Enterprise Institute (CEI) filed an amicus brief with the Fifth Circuit Court of Appeals last week, supporting Louisiana and a group…
WASHINGTON—A three-judge panel of the Ninth Circuit today ruled against Charles and Kathleen Moore's constitutional challenge to President Trump's Mandatory Repatriation Tax. The panel dismissed…
Op-Eds
Every year, law enforcement officers seize billions of dollars in cash and property from the public. Mostly, these seizures take place without any proof of…
President Reagan once said, "Government programs, once launched, never disappear. Actually, a government bureau is the nearest thing to eternal life we'll ever see on…
Each year, federal administrative agencies issue between 3,000 and 5,000 final rules. In addition, they issue thousands of guidance documents—termed "Regulatory…